Welcome to Harmonic Piano Pedal!
Shanghai EXPO 2010 :
Piano contestants in an extra challenge(08.29.2010)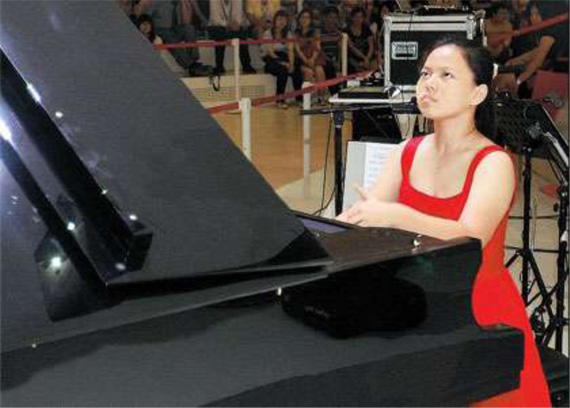 Students from nine of the country's most renowned musical schools took part in a piano competition organized by the Austria Pavilion at the World Expo site yesterday. Participating Chinese music universities : Shanghai, Beijing, Shanxi, Guangzhou, Shenyang, Wuhan, Chengdu, and Tianjin. Austria : Vienna, Graz...
But the competition was unlike most other piano competitions.
This one featured a specially designed grand piano with four pedals, called a "Pedale Harmonique," invented by the french Denis de La Rochefordière, the additional pedal offering a completely new sound effect, but also presenting a great challenge for the young players.
The piano will be put on display for the first time in China at the Austria Pavilion after the competition for Expo visitors to inspect.
Each of the 18 students taking part in yesterday's contest was required to play three pieces - two of their favorites, and another one composed by students from music schools in Vienna.
The students' performances were judged by a jury featuring 12 of China's and Austria's most renowned pianists and music professors.
The top prizewinner was 15-year-old Zhang Ruixue from Beijing, a grade three junior middle school student affiliated to the Central Conservatory of Music, a national leading musical institution.
She won 12,000 yuan (US$1,765), as well as a concert grand piano - with four pedals - for her school. She will also be offered the opportunity to perform at the exhibition area of the pavilion for Expo visitors.
In second place was Sun Yutong, a 14-year-old competitor from the Central Conservatory of Music. "Playing on that unique piano with four pedals was an amazing experience completely different from before," the Tianjin native said.
"It allows some syllables to stay and linger on, which is taking me and audience to a fantastic world."
Birgit Murr, Austrian Deputy Commissioner, said they wanted to use the competition not only to emphasize Austria's image as a country of music and culture, but also to foster cooperation between Chinese and Austrian musical schools.